How To Make A Delicious Mango Cheesecake Recipe
A fresh delicious mango cheesecake will certainly be a popular dessert at your gathering! Can you imagine it's a hot humid day? Besides being refreshed, how about tickling your taste buds with a fresh delicious mango cheesecake? To Filipinos, the mention of fresh mango or "mangga" will certainly get them salivating. Popular among Filipinos, mango can be eaten green or at best, when it's ripe and juicy.
Mango Varieties
To make a successful delicious mango cheesecake, you need to have a delicious mango fruit! In the Philippines, there are many varieties of mango that are grown there.  There are also many different varieties grown around the world. Popular mango varieties in the Philippines are the Carabao, Pico and Pahutan mango. There are mango varieties that are hybrids.  Grown for their quality and taste, it is more popular than inferior mangos grown from seeds. What varieties of mango are grown around your location?  Of course, with this recipe for delicious mango cheesecake, you can use a mango that is readily available.
To make a delicious mango cheesecake, try and experiment with different varieties of mango. What type of mango taste do you prefer? There are sour, tart and very sweet mango varieties.  You can adjust the amount of sugar in your recipe depending on the taste of your fresh mango. If you live in a tropical location, get an idea of the different mango varieties available.  Visit an open air market and see what varieties of mangoes are available. Ask the vendor which of their mangos on display is the best tasting or sweetest.  Be sure to get the name of the mango variety if the vendor knows what it is. Next time you make this delicious mango cheesecake recipe, you'll have the options for different mangos.
In Hawaii, there are several popular varieties that are grown. Varieties like: Haden, Keitt, Mapulehu, Pirie and Rapoza. For this delicious mango cheesecake recipe, the variety of mango that I will be using is Rapoza mango. I am blessed to have this large, juicy and delicious sweet mango fruit variety growing in my backyard😁.  I certainly love that it's a moderately compact tree and bears fruit every year in Hawaii.  SWEET!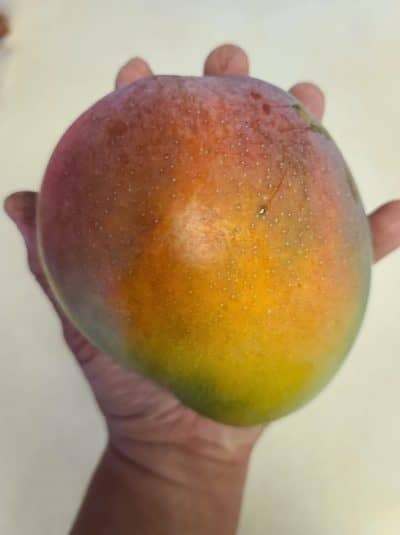 The variety of mango used in this recipe is a Rapoza mango. Grown in Hawaii.
Ingredients needed for mango cheesecake:
1 or 2  Fresh Mango Fruit (your favorite variety)
Flour
Butter
Brown Sugar
White Sugar
Walnuts
Cream Cheese
Whip Topping (Cool Whip)
Vanilla Extract
Unflavored Gelatine
Cold And Hot Water  
Delicious Mango Cheesecake – Crust
1 Cup – All Purpose Flour
1 Stick – Butter (soft)
¼ Cup – Brown Sugar
¼ Cup – Walnuts (finely chopped)  
Preheat your oven to 350℉. In a mixing bowl, combine brown sugar and butter. Mix it until it's creamy in texture.  Add the walnuts and flour to the mixture. Mix the ingredients until it's like a dough in consistency. Using a 8 x 8 baking pan, press the dough mixture evenly on the bottom of the baking pan. Place the baking pan in the center of the oven and bake for 10-12 minutes. Allow the crust to cool.
Note: If you're baking with a dark baking pan, lower your oven's temperature to prevent your crust from burning.
Delicious Mango Cheesecake – Filling
1- 8 ounce Cream Cheese
1- 8 ounce Cool Whip Topping
⅓ cup – White Sugar
¼ teaspoon- Vanilla Extract
While your crust is cooling, make your cream cheese filling.  In a mixing bowl, cream the sugar and cream cheese together until it's creamy in texture. Add the whip topping and vanilla extract.  Use an electric mixer and mix all these ingredients together until the mixture is firm. Pour this mixture onto the cooled crust.  Level the mixture using a spatula.  Refrigerate the pan for several hours.
Tip: Before placing your fresh delicious mango cheesecake topping, pre-cut the cheesecake to squares through the crust. Memorize the pattern where you placed the cuts on the cheesecake.  Now, smooth the cut marks with a spatula.
Cut your cheesecake into squares before placing your mango topping.
Delicious Mango Cheesecake – Topping
1 or 2    Fresh Mango Cubes (your favorite variety)
1 pouch   Knox Unflavored Gelatine
¼ cup Cold Water
¼ cup Boiling Hot Water
Place the ¼ cup of cold water in a mixing bowl. Take the pouch of gelatine mix and sprinkle over the cold water.  Wait one minute.  Add the ¼ boiling hot water.  Stir the mixture until gelatine is dissolved. Immediately add your fresh mango cubes to the dissolved mixture and stir it. Pour your mango mixture onto the pan.  Refrigerate immediately for several hours to allow gelatine to set.
Note: Depending how sweet your fresh mango is, you can adjust the amount of sugar (in filling) according to your taste.
Delicious Mango Cheesecake
Tip: After you've waited for the mango and gelatine to set in the refrigerator, take it out.  Using a knife, you will now retrace the cut pattern you did through the cheesecake. This time, you will trace the pattern on the mango/gelatin portion only.  When you lift the squares from the pan, your delicious mango cheesecake will be beautifully presentable.
Delicious Mango Cheesecake Slice
What a refreshing delight! If you're fortunate to get delicious fresh mangos locally, be sure to try this recipe. Delicious mango cheesecake is a dessert that you can look forward to every year during mango season. It certainly will be a hit at your gatherings!  Be sure to share this recipe with your family and friends.
This post may contain affiliate links. We may receive a small commission when visiting these links. Thank you very much for your support! For more info read our Disclosure.